Meat pie from Hania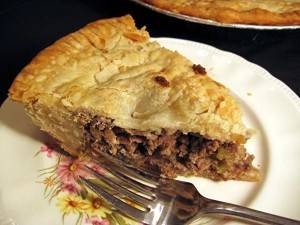 For the dough:
1/2 kilo flour
1 small carton yoghurt
1/2 cup oil
Some salt
1 cup meat stock
For the filling:
1 kilo lamb or kid
1 kilo mizìthra cheese
1 glass stàka
Pepper, cinnamon, spearmint
1 cup meat stock
1 tablespoon corn flour
Preparation:
After boiling the meat and removing its bones, chop it and sprinkle with salt, pepper, spearmint and cinnamon. Prepare the dough by first combining the flour with oil and then add the rest of the ingredients for the dough. When the dough is done, spread out half of it on an oiled baking pan. Spread out half of the staka, mizithra cheese and the all the meat. Top the meat with the remainder of the mizithra cheese and staka and sprinkle again with cinnamon and spearmint. Roll out another pastry sheet and cover the pie. Brush with the beaten egg, sprinkle with sesame seeds and bake for 1 hour at a low temperature. Follow the same procedure to prepare individual pies.