Garlic, cucumber and yogurt dip (Tzatziki)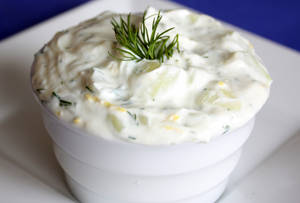 Ingredients:
1 kg strained yoghurt (1.1lbs)
2 large cucumbers

3 cloves garlic

4-5 tbsp olive oil

2 tbsp vinegar

1 tbsp finely chopped mint or dill (optional)
Preparation:
Peel and grate cucumbers. Squeeze as hard as possible to remove water completely. Mash garlic with salt in a mortar. In a medium-size bowl, mix yoghurt with cucumber and garlic. Slowly add vinegar and olive oil and combine well. Finally add mint or parsley. Refrigerate until ready to use.