Lima beans salad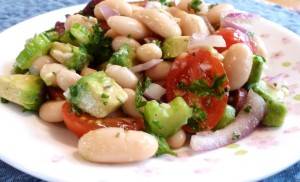 Ingredients:
500gr lima beans
1 medium onion, finely chopped
4 tablespoons extra virgin olive oil
2 tablespoons lemon juice Parsley, finely chopped
Salt
Preparation:
Soak the beans in cool water for 10 hours, then strain and boil for 20 minutes. Strain the beans and boil them again in fresh water for 10 more minutes. Strain and transfer them into a salad bowl. Season the beans with salt, add onions and dress them with the olivelemon juice and top them with finely chopped parsley.