IRTAKINA Rooms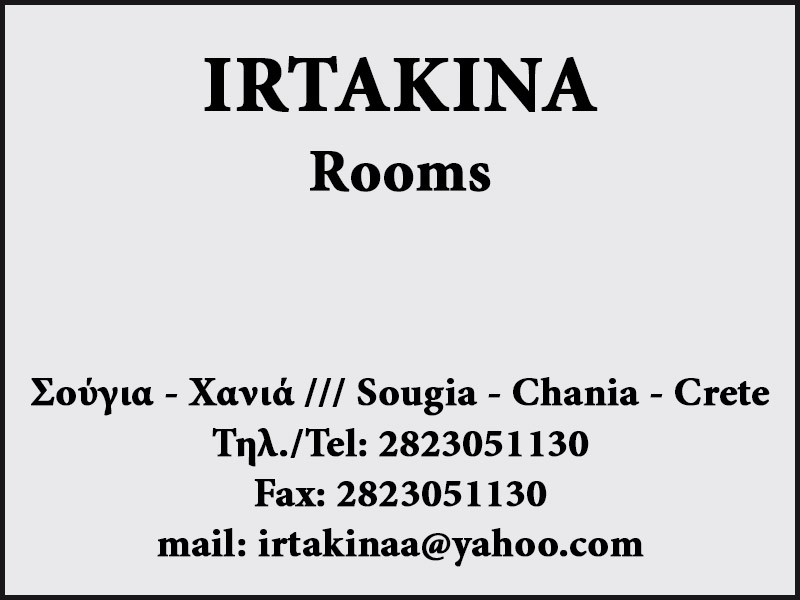 More photos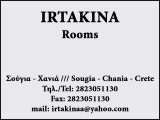 Click to enlarge
The hotel Irtakina is located about 200 meters from the sea. It consists of 10 rooms ( 8 double and 2 triple rooms). All rooms have their own balcony, en suite bathroom, fridge and a small cooker can be made available on request. Room cleaning is provided daily.
What sets this small hotel apart is the beautiful small garden which surrounds it. When you sit on your balcony (all the rooms are on the ground floor) you are entirely enveloped by lush green and flowers. The place is ideal for lovers of quiet and nature.
Irtakina is open from the 1st of March until the end of December
We also have and shop with Accessories. Here you will find a very wide range of various accessories and souvenirs such as jewelry, handbags, pendants, hats and much more...
Address: Sougia selinou - Chania
Telephones: 0030 2823051130
Mobile: 0030 6940909898
Fax: 0030 2823051130
Email: irtakinaa@yahoo.com