RECIPES - Varius
We want to thank all of you who have sent recipes and we encourage all new visitors of our site to send us their recipes in order to publish them!
There are 2 recipes in 1 pages
Page 1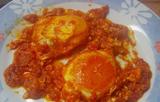 Heat a non-stick frying pan. Peel and grate the tomatoes, then place them in the pan. Season them with the salt and let them simmer for 6-7 minutes, until all water is absorbed. Add the olive oil, stir the mixture and simmer for 2-3 more minutes.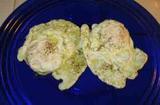 Add water and salt in a frying pan and bring to a boil. Break the eggs in the boiling water; spoon boiling water over them, until the eggs turn into 4 white balls. Remove the eggs from the pan and serve each with two tablespoons of staka.