MUNICIPALITY of PLATANIAS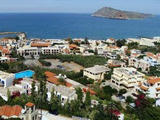 A municipality with rich tourist activity, since large part of its population is involved in tourism.
The new municipality of Platania was formed following unification of the former municipalities of Kolymvari, Mousouri, Voukolion and Platania. The new Platania covers an area of great natural beauty and special soil morphology. It extends from the north coast to the cosmopolitan scenic trails of the White Mountains and Omalos plateau. It is a place of rich tradition and culture. It has a strong economic activity in many fields, consisting an attraction for investment especially for the tourism industry.
Excellent products of Cretan land are produced in Platania, such as oil, oranges and chestnuts while livestock activity is growing in mountain areas.
Kolimvari Region
As a cradle of civilization, the Municipal section of Kolymvari hosts the Orthodox Academy of Crete, a charitable foundation of the Metropolis of Kissamos and Celino, the fishing and fishing tradition museum, which is unique in Crete, the historic Venetian villa in Rodopou and the outdoor stone theater of Alexis Minotis in Episkopi.
Mousouri Region
Here lies the settlement of Omalos on a plateau at an altitude of 1050 meters. The historic "Army of Mousouri" sung in traditional Cretan songs began from that point, connecting in the past the Omalos plateau with the city of Chania. Leaving Omalos plateau behind, the visitor can see Xyloskalo, which is the entrance to the White Mountains National Forest (Samaria Canyon).
Voukolies Region
Renowned throughout the island the Good Friday bazaar in Voukolies whose roots are located back in Ottoman era, and continues to this day. Also worthy of attention is the Byzantine church of Agios Konstantinos dating from the 13th century and the remains of the historic Tower of Voukolies, where, in 1897, the Greek troops and Cretan rebels achieved a decisive victory against the Turks.