Wild amaranth with garlic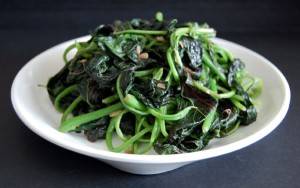 Ingredients:
1 kilo wild amaranth
2 onions, finely chopped
4 cloves of garlic, finely chopped
2 tomatoes, finely chopped
2 potatoes, quartered
1 cup extra virgin olive oil
Salt and pepper to taste
Preparation:
Saute the onions in olive oil and add the wild amaranth chopped. Add the potatoes, garlic, tomatoes and one cup water. Simmer for 20 minutes, then season with salt and pepper and continue simmering for 15 more minutes.
Serve warm or at room temperature.