Meatballs avgolémono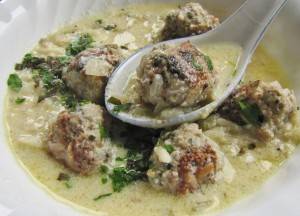 Ingredients:
1 kilo minced meat
250gr breadcrumb
2 onions
Parsley, spearmint
1 cup cheese, grated
2 egg whites
Salt and pepper to taste
Oil and flour for frying
For the sauce:
2-3 onions
1 shot glass vinegar
1 wine glass milk
2 egg yolks
Preparation:
Prepare the mixture, shape into meatballs, dip them into flour and fry them a little. Finely chop the onions and boil them in a pot with some water. When the water is absorbed, add the butter and saute them until slightly brown and then extinguish with vinegar. Add some more water and when it starts boiling, add the meatballs and let them boil for a while. Beat the egg yolks, add the milk, some salt, 1 tablespoon flour, 1 tablespoon butter and several tablespoons of broth from the pot. Pour this mixture over the food in the pot, stir and turn the heat off.