Pork with celery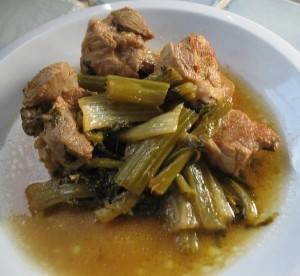 Ingredients:
1.5 kilo boneless pork
2 kilos celery
2 onions
1 glass oil
1/2 wine glass lemon juice
Salt and pepper to taste
Preparation:
Place the celery in a pot with water, boil and strain. Saute the onion in oil and add the chopped pork. Add some water and cook meat for 45 minutes. Place the celery in the pot with salt and pepper and continue simmering. Do not stir with the ladle but toss the pot, so as the meat does not stick. When only the oil remains, add the lemon juice and serve.