Roll of lamb with white beets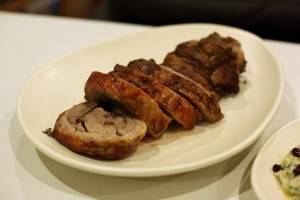 Ingredients:
2-3 kilos lamb back
1 1/2 kilos white beets, finely chopped
4 spring onions, finely chopped
2 tablespoons spearmint
1 cup spicy kefalograviéra cheese, grated
1 tablespoon breadcrumb
2 cups lamb liver, finely chopped
3 teaspoons olive oil
1/2 cup dry white wine
Salt
Pepper, freshly ground
For the sauce:
1 lemon, juiced
2 cloves of garlic, crushed
2 teaspoons olive oil
Preparation:
In a deep frying pan saute the onions in olive oil for 2-3 minutes. Add the liver and continue sautéing for 5 minutes stirring continuously. Season with salt and pepper and extinguish with wine. Let the mixture absorb its liquids and dry completely. Let it cool completely, transfer to a deep bowl and mix with the white beets, the spearmint, the cheese and the breadcrumb. Season the inner part of the lamb back with salt and pepper and stuff it. Roll and wrap it tightly with a white cotton thread and place the roll on the oven grill. Roast at 200 degrees for 25 minutes, brushing regularly with a sauce made from olive oil, lemon juice and garlic. Lower the heat to 180 degrees and continue roasting for 45 more minutes, until brown. Then remove from the oven, set aside to cool, cut the string and slice. Serve warm.