Skordalià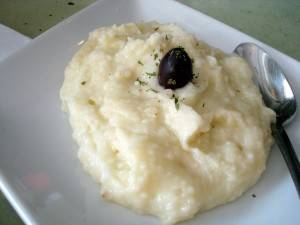 Ingredients:
5-6 cloves of garlic
150gr potatoes (boiled)
1/2 cup extra virgin olive oil
2 teaspoons vinegar
Salt
Preparation:
Peel and mash the garlic cloves. Add in the potatoes and mash the mixture. Add 1-2 teaspoons vinegar and pour in the olive oil, whisking the mixture at the same time. Top the garlic paste with the olives and serve. In addition to olive oil, you can also add a little lemon juice. Instead of potatoes, you can use breadcrumb soaked in water.