Sparkling Watermelon Sangria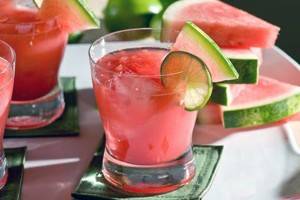 Ingredients:
4 cups watermelon, cubed and cold
3/4 cups dry white port, such as Churchill's
1 lime, sliced thin
750ml bottle Moscato, chilled
3 cups lime seltzer water, chilled
Preparation:
In a pitcher place 3 cups of the watermelon cubes (saving some for garnish) and white port. Be sure these are cold as they can become mushy when room temp. (You can even freeze them for 30 minutes first.) Add 8 to 10 slices of lime. Add the Moscato and seltzer water. Stir with wooden spoon to mix. Pour into ice-filled glasses and top each glass with a couple pieces of watermelon and a lime slice.