Μelopita (apple pie)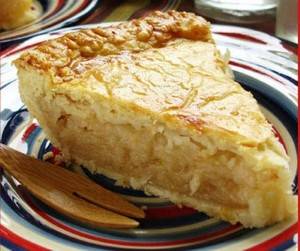 Crust:
1/2 cup cold, unsalted butter
1/4 cup icing sugar
1/4 tsp salt
1 egg yolk
Ice water
1 1/2 cup flour
1/2 cup myzithra or anthotyro or ricotta cheese
1/3 tsp grated lemon zest
Filling:
6 apples with firm flesh (+-900 gr)
3 tbsp butter
1/4 – 1/2 cup sugar
1/2- 2/3 tbs ground cinnamon
1/2 tsp grated lemon zest
Sugar
1 cup almonds, blanched and rough chopped
Preparation:
Stir together flour, sugar, salt and lemon zest. Add butter and cheese and blend with your fingertips until mixture resembles coarse meal. Add egg yolk, 4 tbsp ice water and stir until incorporated. Add more ice water if needed; the dough must be soft and elastic. Roll out dough and fit it into a tart plate. Trim edges. Chill, wrapped in plastic wrap, at least 1/2 hour. Preheat oven to 200 degrees. Peel and core apples. Cut them into 2 cm thick. Stir together apples, sugar, butter, cinnamon, lemon zest. Spoon filling into tart crust. Sprinkle sugar on top and bake until crust is golden-brown and filling is tender.