Beef, Pork or Chicken Youvetsi - Meet and pasta casserole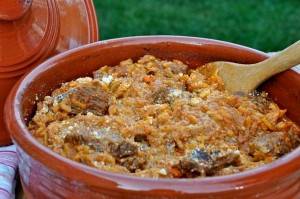 Ingredients:
1 1/2 kilo beef (shoulder-blade) or pork or a whole chicken

2 large ripe tomatoes, sliced 1 -2 cm thick 

1 pack of kritharaki
1 medium onion, quartered 

1 tbs olive oil 

1 tbs butter
Salt 

Pepper 

Grated cheese
Directions:
Rinse the meat under cold, running water and cut into large pieces. Place in a lidded clay pot. Pour olive oil and two cups of water over meat and arrange sliced
 tomatoes on top. Cover and bake in the center of the oven at 200 degrees for 45-50 minutes. Lower heat to 180 degrees and cook for one hour more. When the meat is cooked, boil the pasta with the onion for 5 minutes. Drain and add butter. Stir well so that the pasta is coated. Season lightly with salt and pepper. Open pot and pour pasta around the meat. Lightly season the meat with salt and pepper. Cover and return to the oven. Bake at 200 degrees for 8 minutes. Turn off heat and let the pot stand in the hot oven for 20 minutes. Add grated cheese before serving.