Calamari fritto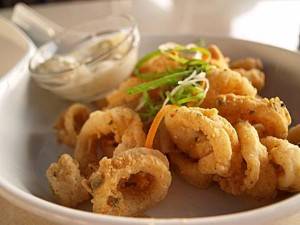 Ingredients:
Vegetable Oil – enough to cover the calamari rings (about 2 inches)
1 pounds calamari rings
1/2 teaspoon each of salt and pepper
1 1/2 cup flour
1 teaspoon paprika
1 teaspoon cayenne pepper
Directions:
Heat vegetable oil in a heavy skillet, when hot, turn heat down to medium (about 375 degrees). Then place calamari rings in a bowl and toss with salt and pepper. In a separate bowl mix flour, cayenne pepper and paprika
Working in batches by the handful, take a handful of ring and tentacles and place in flour to coat, gently shake off excess. Place in the hot vegetable oil, cooking for 3-5 minutes until golden and crisp. Use a slotted spoon to transfer calamari to paper towels to drain. Serve with your favorite dipping sauce.