Pilàfi rice from Hania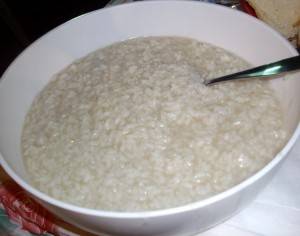 Ingredients:
1 kilo lamb or kid and 1 chicken
1 wineglass lemon juice
5 tablespoons butter (stàka butter)
2 cups rice
6 cups stock
Salt
Preparation:
Boil the meat, strain and collect its stock. Measure the stock and pour it again in the pot to boil with the rice. When the rice is half done, add the lemon juice. Remove from heat. Heat some butter and pour over the rice. For 3 glasses of stock add 1 glass of rice. If the stock is not enough, add some water. The pilafi can be accompanied with yoghurt.