Snails in tomato sauce with French fries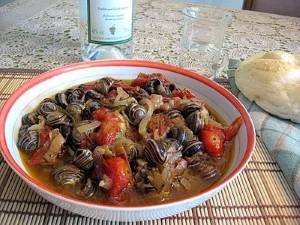 Ingredients:
1 kilo snails
1 kilo potatoes
1 onion
1/2 kilo tomatoes
Olive oil, salt, pepper
Preparation:
Saute the onion in olive oil. Finely chop the tomatoes and add them in the pot. Then add water and bring to a boil. Add the snails in the pot. At the same time, slice the potatoes and fry them. Add the potatoes in the pot, when the snails start boiling. Season with salt and pepper and let them boil.