Salad with fennel and yoghurt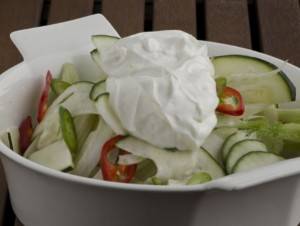 Ingredients:
1 cup fresh fennel hearts
1 cucumber, diced
1 cup radishes, finely chopped
2 cups yoghurt, strained
1 tsp fresh mint, finely chopped
1 lemon, juiced
Salt
White pepper, freshly ground
Preparation:
Chop the fennels and mix with the cucumber and radishes. Add the lemon juice, season with salt and pepper and transfer the salad into a deep bowl. Add the cucumber and mint and mix all with a spatula for 2-3 minutes. Top the salad with the yoghurt and serve it garnished with the mint leaves.