Octopus with olives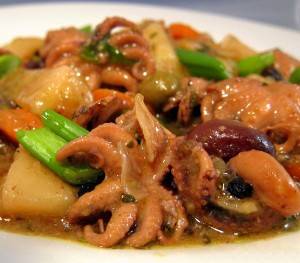 Ingredients:
1 kilo fresh octopus
500gr small onions
250gr tsakistès olives
1 wine glass extra virgin olive oil
250gr firm red tomatoes
Salt and pepper
Preparation:
Cook the octopus in its liquid for some time. Extinguish with wine and add the olive oil, salt and the grated tomatoes. Bring to a boil and add the small onions peeled and cut into half or whole, if small. When half done, add the olives. Cover the pot and let the food boil. Simmer over moderate heat. Serve with french fries.