Roast anchovies with tomato and olive oil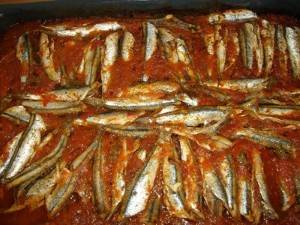 Ingredients:
1 kilo anchovies
2 large, ripe tomatoes
2 cloves of garlic
1 tablespoon oregano
1 cup extra virgin olive oil
Small lemon, juiced
Salt
Preparation:
Remove the head and the intestines of the anchovies and rinse thoroughly, clean and place in a fairly large baking pan. Sprinkle olive oil, lemon, salt and oregano on the fish. Then use your hands to mix well and add the garlic. Slice the tomatoes and use them to cover the anchovies. Finally, cook for 45-50 minutes at 180 degrees.