Stuffed courgette flowers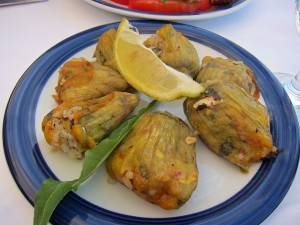 Ingredients:
20 courgette flowers
1 cup rice
1 large tomato, grated
1 large onion, finely chopped
2 courgettes, grated
2 tablespoon parsley, finely chopped
1/2 cup olive oil for the filling
1/2 cup olive oil to cook
1/2 lemon, juiced
A dash of cumin
Salt and pepper to taste
Preparation:
Open the flowers to remove the pistil and all hard stems on the outside. Wash the flowers and place them in a vertical position in a bowl to drain off water entirely. Use another bowl and place the onion, tomato, grated courgettes, parsley, rice, salt and cumin. Also, add the olive oil and mix well by hand. Pick the flowers one at a time and put in a teaspoon or less from the mixture. Fold the tips of the flowers to secure the mixture inside. Place the stuffed flowers in a shallow and heavy-bottom baking dish. Pour 1/2 cup of olive oil, lemon juice and 1/2 cup water (maybe less) over them and simmer.